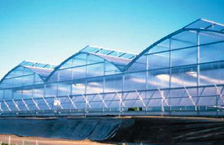 Anybody who owns a commercial greenhouse knows that one of the most important parts of it is its heating system. Greenhouse heating is available in different options that work with varied technologies, which is why knowing a bit about these systems can help you find the best option for your needs. If you are beginning your search for a greenhouse heating system and you do not know where to start, we have some suggestions that can make the task easier.
Consider What You Are Growing
One of the most important things you should keep in mind when choosing a greenhouse heating system is what you will be growing. Some plants, like lettuce, can do fine with cooler temperatures, while others need very warm conditions to grow. You need to take into consideration the temperature levels in the area where you live and buy a heating system that is strong enough to maintain a constant temperature when you need it.
Consider Size
Many people make the mistake of only buying heating for the plants they have at the moment. This does not take into consideration whether you are planning on growing your business. Why should you buy two different heating systems to accommodate your growth, when you can buy one that can be adjusted? Keep this in mind before making a purchase.
Fuel Used
Different greenhouse heating options use different fuels. Depending on what you prefer, one choice may be better than another. Boilers, for example, can burn logs, wood chips, coal and fuel oils, while unit heater use natural gas, LP, or kerosene. It is important to consider this before selecting the heating unit you want for your greenhouse. This is especially important if you run an environmentally friendly company and you want to keep your carbon emissions as low as possible.
Budget
Of course, the larger and fancier the heating unit, the more expensive it will be. This is why you need to create a budget that you can actually afford for the heating. By having a budget in mind, you will not be tempted to spend more than you should. In order to set up a realistic budget, however, the best thing you can do is research the different heating options available and what their average costs are. This will ensure that you are not overcharged and that you select the heating option that best suits your needs as well as your budget.
Taking these things into consideration can help you find the perfect heating unit for your commercial greenhouse. You need your plants to be as healthy as possible and to grow so that you can make a profit. This can only happen if they are kept at the appropriate temperatures, which, in many area, requires a heating unit of some sort. Take the time to learn a bit about what each different heating unit can offer and how much each costs so that you can make a qualified decision and purchase the one that best suits your company needs.